American World Champion-2015 of 10 km on the open water Jordan Wilimovsky and young Australian water marathon's  swimmer Chelsea Gubecka took the men's and women's 10 km events on the 1st day of competition at the Australian Open Water Championships in Mooloolaba on the Sunshune Coast of the Green Continent.
21-years-old Wilimovsky and his main rival at the event 22-years-old Jack Burnell of Great Britain, who finished 5th at the World Championships in Kazan, went one-two in Mooloolaba with 1:59.27,55 and 1:55.32,36. Both swimmers have already qualified for Olympic Rio-2016 by placing in the top 10 during Kazan's Aquatics.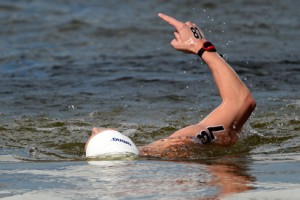 The next two water athletes also finished with the results to have their opportunities to be selected to the Olympic team of Australian Dolphins. Jarrod Poort (1:59.35,53) and Rhys Mainstone (1:59,37,78) finished on the top of Australian swimmers in the race. With his performance Poort qualified to swim 10 km at an Olympic qualifying competition in Setubal (Portugal) on the June 11th.
In accordance with IOC qualifcation's systeme every nation can enter only two athletes of each gender into the competition in June. Based of her races at Kazan's Aquatics Chelsea Gubecka was automatically selected to swim in Portugal, which left an open chance for every swimmer among men and women to race then in Rio-2016.
17-years-old Chelsea Gubecka with 2:04.29,37 won the women's event followed by her team fellow Kareena Lee (2:06.08,98). With her second place Lee will also swim in Setubal for an opportunity to qualify for the coming Olympic Games.
Photos: Swim Swam & Kazan-2015