USA's web site Swimming World traditionally is keeping an up-to-date listing of the cash prizes won during the 2015 FINA World Cup. This year more than $2 million will be up for grabs during 8 stages of 3 clusters.
After the completion of the second cluster (Hong Kong, Beijing, Singapore) Iron Magyar Katinka Hosszu is well on her way to successfully defending her 2014 FINA World Cup title with $ 148 500 and 402 points totally. Australian Dolphin Emily Seebohm ($ 89 500/261 pts) is the second, while another Hungarian Zsuzsanna Jakabos holds third with 141 points and $ 57 500.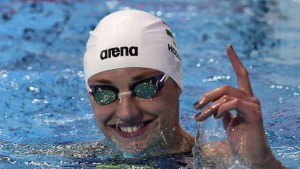 South African swim veteran Cameron van der Burgh leads among men with $117 500 in winnings and 237 points after the two World Cup's first clusters. Japanese Masato Sakai ($ 47 500) and Ashley Delaney ($ 43 500) are both the second with 105 points each.
Best World's swimmers are racing for $ 1 500 (1st), $ 1 000 (2nd) and $ 500 (3rd) for podium placements and earned up extra to $ 10 000 per each new World record. That is $ 92 000 in just race winnings available at each round of World Cup 2015.
Finishing sessions of the third cluster of FINA World Cup 2015 will take place in Tokyo (28-29 of October), Doha (3-4 of November) and Dubai и (6-7 of November).
Photos: Peter Sukenik, Sport Express