The 16th World Aquatic Championships ended in at the 9th August 2015 in Kazan. Hot water of the pool of "Kazan Arena Stadium" took in the deep of swimming's history the names of champions and losers of the Global meet, bright pictures of main events, seconds of records and figures of sold tickets for swim competitions.
Best Aquatic masters of the Planet competing at last meet's evening for titles and medals in the following final races: in 4 women's events and in 3 men's individual events, as well in two fastest men's and women's relays 4×100 m free.
In men's final race in 50 m back 30-years-old leader of the season French sex symbol Camille Lacourt posted a Gold title with the best time of this year (24,23, largely surpassed American Meet Grieverse (24,61) and bronze medallist Ben Treffers from Australia with 24,69. Russian champion Vlad Morozov was as usual here out of the podium, only fifth (24,73).
The clash between best breast swimmers all over the World Yulia Efimova from Russia and Ruta Meilutite from Lithuania in 50 m of the stroke won… Swedish Jenny Johansson with 30,05. Russian girl swam with bronze with 30,13, 0,02 second after silver medallist Alie Atkinson from Jamaica (30,11),  0,01 (!!!) second ahead of Ruta out of prizes with the time of 30,14.
World's season leader Daiya Seto of Japan celebrated Gold medal with in 400 m medley with a time of 4.08,50. Hungarian swimmer David Verraszto set second (4.09,90), Chase Kalisz from USA goes on the podium in third place after finishing in 4.10,05 in the event.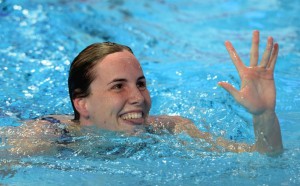 Australia's Bronte Campbell earned the second Kazan's World title, finishing the distance of 50 m free with a time of 24,12. Ranomi Kromowidjojo from Holland placed second after touching the wall in 24,22. Bronze went to Sweden's Sarah Sjostrom, who hit the bronze with a time of 23,31.
Italian stayer Gregorio Paltrinieri became World champion in men's event of 1500 m free, covering the distance with 14.39,67, followed by American Connor Jaeger, who touched the wall second with a time of 14.41,20. Bronze claimed by Canadian swimmer Ryan Cochrane, who stopped the watch at 14:51.08.
Hungarian swimmer, Iron Magyar Katinka Hosszu claimed the second Gold of the championships in 400 m IM, finishing with a time of 4.30,39. Maya Di Rado from USA came second with 4.31,71. Canadian Emily Overholt ended up with bronze, touching the wall with a time of 4.32,52.
In admired by all tribunes bright 4×100 m free relays the rosters took the following places on the podium:
Women's 4×100 m medley relay: 1. China – 3.54,41; 2. Sweden – 3.55,24; 3. Australia –3.55,56. Men's 4×100 m medley relay: 1. United States – 3.29,93; 2. Australia – 3.30,08; 3. France – 3.30,50.
Photos: «R-Sport» MIA «Russia Today»