Several schools' pupils, classic and open water veterans, fans and famous swimmers participated on the 2nd January of 2016 at the traditional bath of New Year of legendary Circle of swimmers of Marseille (CNM), very happy to have discovered that water of +14 degrees, was quite bearable.
The athletes, who swim every day, were just happy to share this moment of celebration and then, hardliners who, disillusioned, found the water even too hot. But all shared the same view, the same communion of this NY bath, unifying, is the symbol of CNM, one of the oldest water-sporting Clubs in France, created on 1901, cultivating high level and associative values of family.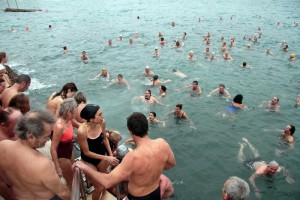 Paul Leccia, the many-years iconic CNM's president admits, that this NY water race in the Mediterranean open water was a very nice start of 2016 Olympic year. All best Marseille's swimmers, Olympic, World and Europe champions as Florent Manoudou, Jeremy Stravius, Camile Lacour, Mehdy Metella and others had already started their preparation for National championships in Montpellier and European meet if London. The aim is to take at those competitions official qualification for Games-2016 in Rio.
As to CNM's boss confidence, those real "Idols of French polls" would have success at Olympiad corresponding to their mastery and hard work, and Marseille is waiting badly their new big swim victories.
Photo: Robert Poulain