A couple of new World records set at the 2015 Mutual Duel USA vs Europe in the 25-meter pool in Omaha (Nebraska).
American Matt Grevers clipped the best Global result in swim history in the men's 100 m back with a time of 48,92. That swim broke the old performance of 48,94 set of another American Nick Thoman posted in rubber suit in 2009.
Ex-Russian and now Serbian champion, Euro's team member Arkady Vyatchanin took the second place (50,37) with USA representative Eugene Godsoeearning, finishing the third in 51,08.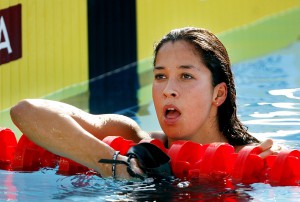 Europe finally battled back from a whitewash as Dutch swim star Ranomi Kromowidjojo beat her own World record in the women's 50 m free at the 2015's edition of Duel in the Pool. She clocked a time of 23,24 to tie her previous best time from 2013.
Euro's Jeanette Ottesen from Denmark, swam the second in 23,49, setting the 7th time in the event's in all time swimming's history. American Lia Neal finished the third with 23,95, out touch better than Aliaksandra Gerasimenya from Belorus being fourth with 23,98.
Photo: Peter H. Bick, Sportvisor.com