It was a real fantastic second day of swimming tournament in the frame of 16th World Aquatic championships in Kazan: World records, struggle for titles, fine races of Global and Russian masters. Happy public in the pool of "Kazan Arena" admired with cry two Planet's records, posted by representatives of fair part of swimming world.
First gold medal was set by Swedish Goldfish, Sarah Sjostrom in 100 m butterfly with a new World record, time faster than in prelims, 55,64. Brave Danish blonde Jeanette Ottesen, injured two weeks before Worlds in the strong clash with highway hooligan, took a hardly merited silver medal of the event with 57,05. Chinese fly swimmer Lu Ying set a bronze (57,48).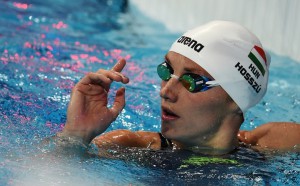 Second gold and World record took Iron Magyar Katinka Hosszu in 200 m medley with a time of 2.06,12, much better than European record in a semi-final. Posting a routine gold crown, she and her husband and coach were very happy of this victory, proving the fact, that not a volume of her fees, but a major title is more important for complete champion! Japanese Kanako Watanabe was the second (2.08,45) and Marie О'Connor from England was the third (2.08,77).
In men's part of the program, only World's leaders posted gold awards: French Titan of swimming sprit Florent Manaudou in 50 m fly with 22,97 and 20-yers-old Britt Adam Peaty in 100 m breaststroke (58,52). No new records, but it was so beutiful swimming! Russian Kirill Prigoda posted the seventh in breast, breaking symbolic one minute in 100 m with 59,84.
Semi-finals made happy all pool's public. Russian prima of breast stroke Yuliya Efimova swam in 100 m the first with the fastest time of the year (1.05,60), 0,04 ahead of her eternal rival Ruta Meilutyte (LTU) with 1.05,64. Young mama Anastasia Fesikova from Russia with serious time of 59,55 qualified for final race.
In men's semi-final in 200 m free Aqua star, multi Olympic and World champion, 31-years-old American Ryan Lochte with his fantasy rose swim short and new reverse-trick surpassed young challengers with a best time of 1.45,36. Only 19-years-old Britt James Guy, silver medallist in 400 m free, swam during the event minus 0,07 second.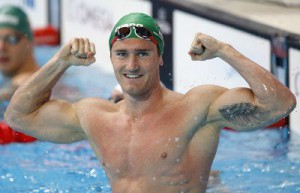 Last blazed news from "Kazan Arena" is the new Universal record of Cameron van der Bough from RSA in 50 m breast with 26,62, better than his previous one of Worlds-2009 in Rome (26,67). He was struggling against the rain and a brand new World champion in 100 m breast Adam Peaty from England, finishing in 0,06 after the winner of the race.
Oh, it will be very hot swim fights for Global titles and medals during coming final races at the Worlds!
Photos: «R-Sport»; V. Pesnya (RIA Novosti); mediaz.or.ru