Russian team of classic swimming finally posted its first gold medal at the 16th World Aquatic championships in Kazan. Yuliya Efimova demonstrated for all rivals, experts and fanatic public, who is a real leader in women's breaststroke in the World.
Aqua prima from Russia was the first in prelims of 100 m breast with the best time of (1.05,60), only by 0,04 second surpassed Olympic champion Ruta Meilutyte from Lithuania. At the final Efimova dominated with a vining time of 1.05,66, and Ruta finished again second (1.06,36). Alia Atkinson from Jamaica ended up in third place after clocking a time of 1.06,42.
A new World record of tireless 18-years-old Katy Ledecky (USA) was another big matter of the day. She won the 1500 m free with the men's time of 15.25,48 and reached the finishing wall 15 seconds faster than her nearest competitor, Dutch swimmer Lauren Boyle (15.40,14).
There was victory for Australian Dolphins in 100 m backstroke, where they got two gold medals at once. Mitchell Larkin came first in the men's event (52,40) and Emily Seebohm in women's race with 58,26.
19-years Britt James Guy won in one of the most exciting clashes of men's program of the day in 200 m freestyle. With a time of 1.45,14 he surpassed all strong crawl swimmers, as World champion in 400 m free Chinese master Sun Yang (1.45,20), German Paul Biedermann with 1.45,38 and American veteran Ryan Lochte, who swan out of a podium of the meet.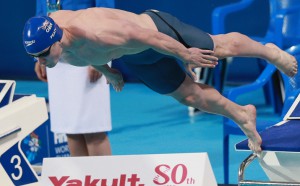 At the end of the evening a phenomenal English swimmer Adam Peaty succeeded to take down the World record in the semi-final of the men's 50 m breast with 26,42. The previous record was set in the preliminary morning's heats by South Africa's Cameron van der Burgh (26,62), who was the second in the race with 26,74. The final event in breast sprint will be very hot!
Photos: «R-Sport»; Anton Denisov (RIA Novosti)